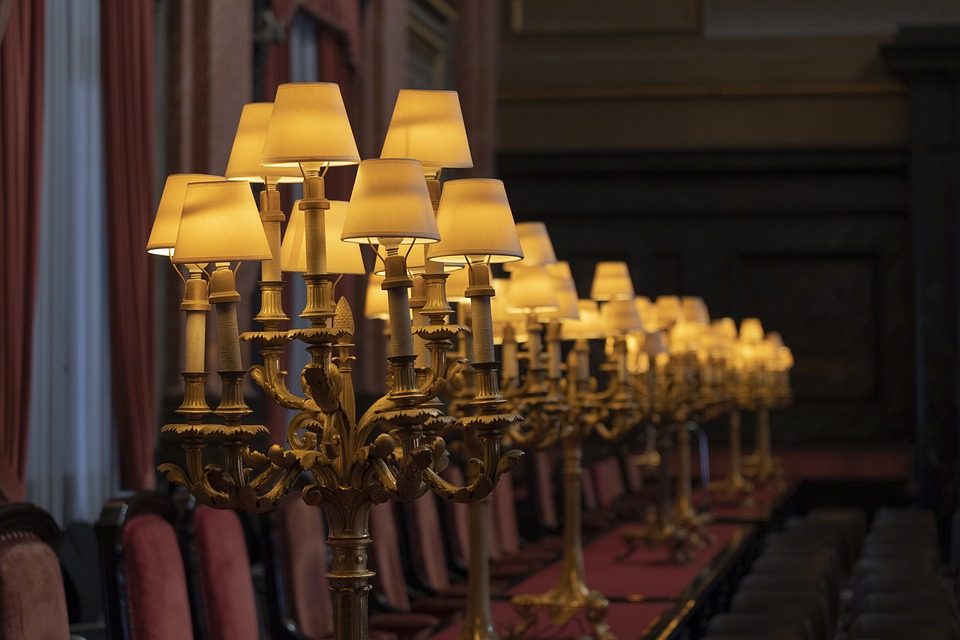 Luxury is something that means different things to different people, nevertheless, there are definitely certain timeless hallmarks and specific features that conjure up a sense of luxury. There are a few little things that add a feeling of luxury and create an atmosphere that makes even
n relaxing with your feet up, feel decadent. Spending time at home should be a pleasure, and having a nice space to kick back and relax is important for your overall sense of well being. Luxury doesn't even necessarily mean expensive, even just investing in a few high-quality pieces of furniture or upcycling some items you already own can conjure a sense of regal luxury.
If you want to add a little bit of luxury to your home or business, we have compiled a list of a few simple things you can do to add a sense of luxury and hopefully make your space feel a little more opulent. Read on to discover more!
Where do you begin?
Adding luxury doesn't have to be difficult. In fact, once you know what you want, it's pretty simple! Even if you are working within the parameters of a budget, you will still be able to create a space that feels luxurious as well as comfortable. Our decorating tips and interior design pointers are going to help you add a sense of flair of style to your property. Whether you are a maximalist or a minimalist, get stuck in and create a space that feels personal to you. If you stay true to your tastes, the rest will follow.
Invest in quality lighting
Changing up the lighting in your space can make it look larger and even more lavish. A silk lampshade, for example, can make a space look more polished. This is something so simple but that makes a huge difference. You don't have to get carried away with this one and buy a crystal chandelier adorned with jewels! Simplicity also evokes luxury. Sparkles and glamour are luxurious to some people but having minimal luxe pieces are going to be a timeless and classic investment. You also need to be practical in terms of working with the space you have and think about what is going to work for you.
Try not to go too overboard with lighting, often less is more and you should opt for quality over quantity. Having simple but also chic pieces are going to make more of an impact and also have the benefit of providing you with functionality. Having a luxury lighting feature is never going to be a bad investment.
As well as creating a sense of luxury it also creates a focal point in a living or dining room and elevates the space. As previously mentioned, if you are seeking an affordable luxury feature, why not consider a simple drum or cylinder lamp shade instead of your existing lights.
Experiment with textiles
Having a sofa, armchair, a couple of cushions or even drapes that are all in the same shade or material is going to look dated. Instead, opt for a variety of textures and colours for your interiors and fabrics. This is going to add style, dimension and a true sense of individuality.
Even if you consider yourself a true minimalist, having a couple of different hues which offer a slight variation to the neutrals you already have in the space is going to liven up a room. Popular shades at the moment include mustard, dark green and dusty pink. These are also all brilliant options if you don't want to commit to a brighter palette, subtlety can work well too!
Fresh flowers
You are not going to require a personal florist to create a luxurious feel in your home but even just having a vase filled with some simple fresh flowers is going to add a chic sense of sophistication to a room. Even an inexpensive bunch of flowers can look showstopping – it's all about how you arrange them.
To do this well all you need to do is separate the bouquet by the stems and then create several small arrangements to spread around your home. The small dent made into your wallet (and your time) is going to be minimal, but the level of the impact this is going to make on a room is huge.
Have a good clear-out
Having a lot of clutter lying around isn't going to create a luxurious feel. You can most certainly have nick-nacks and decorations, being a maximalist isn't an issue in terms of creating luxury, but try and keep it organised if you can. Even something as simple as a styled shelving unit or a curated mantlepiece is going to look luxurious and stylish. Too much random clutter is going to look tacky and a bit chaotic, as well as this it's not going to be conducive to a relaxing environment.
Keep your accessories carefully selected and assess your possessions keeping them to just a few favourites, this is going to create a look that feels elevated and classic. If you don't know where to begin with toning down space, start with a couple of simple and manageable steps towards organising your space, working your way around the room. You'll feel better about this, having a clear-out is never a bad idea!
Invest in a new rug
Bring all of your furniture together and make a statement with a rug. This is something that is going to tie the space together seamlessly. Sounds so simple, but something as simple as a rug is going to be the blueprint for the room and add texture and style. If the space is pretty minimal and simple, why not amplify it with a statement rug. If you've got lots of patterns and colours in the room, you can opt for a simple rug, it works both ways. A rug can add warmth due to the colour or textures of it and the bigger the rug often the more luxurious it will look so invest wisely and check your dimensions.
Neutral tones
Neutral tones create a sense of calm and will allow you to turn your home into a relaxing sanctuary. Grey is one of the most popular interior colours right now and is highly recommended due to its versatility and simplicity.
Tiles
Add another dimension to your kitchen with a beautifully eye-catching tile design, this will not only add luxury but can give your space a new lease of life. If you have a slightly larger surface area to cover, opting for something simple by way of design is a fantastic idea. Something such as plain white subway tiles is a stylish and chic option. If you have a smaller area to work with, using patterned tiles is not a bad option!  You can often get handmade tiles that create a more bespoke look. You will be able to experiment with different tile layouts to see what suits you best.
Dorval Lighting – High-quality Handmade Lampshades and Silk Lampshades in the UK
Are you looking to add a touch of luxury to your home or business? Well in that case, here at Dorval Lighting we can help. We offer an extensive product line of handmade lampshades, plus outstanding custom-manufacturing capabilities for commercial projects. All our lampshades are made-to-order by skilled craftsmen in our state-of-the-art factory. No other lampshade manufacturer matches our quality, range, customer service and competitive wholesale prices.
Dorval Lighting Ltd has 40 years of experience supplying high-quality handmade lampshades across the UK. Please feel free to browse our website or contact us today to find out more about what we do and the products we provide. Contact us today to find out more, we'd be delighted to hear from you.