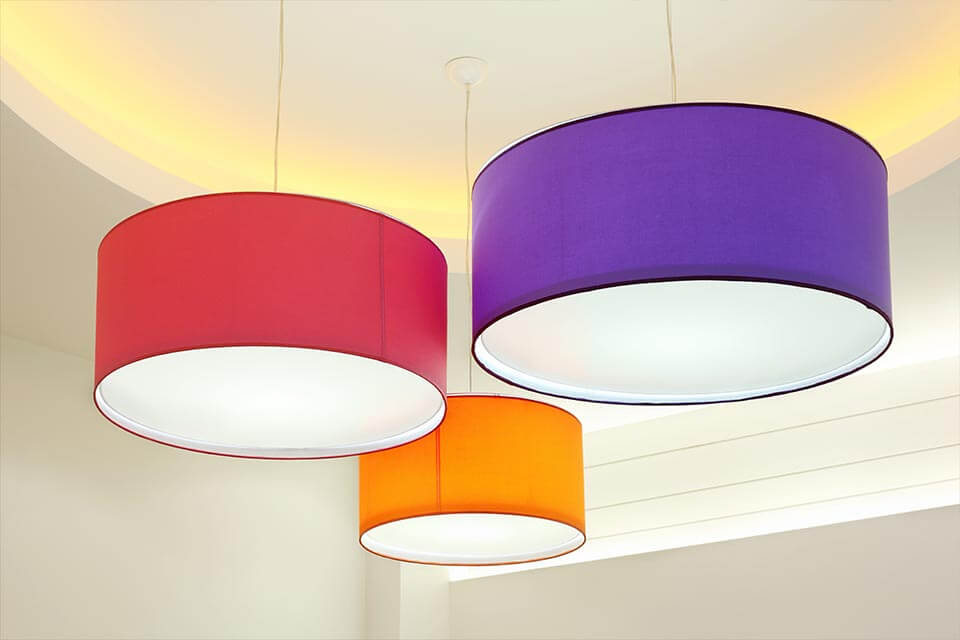 When it comes to interior design, the right lighting can be crucial. It sets the atmosphere and the mood that you're trying to create within the space. Whether that's a relaxing spa vibe in your bathroom to a chilled-out living room space, choosing something as simple as a lamp shade can transform the room you're improving.
There are lots of different variations to choose from depending on your taste and what's popular or trending currently. With that said, this article should be a great resource if you're exploring the world of lamp shade shapes that are available.
In this guide, you'll see ten of the most popular shapes and how best to style them within your home this year.
10 Of the Most Popular Lamp Shade Shapes
When choosing a new shade, it's good to think about the room you're decorating and what this might mean for the types of material and shape you go for because lamp shades can often change the look of a room.
1. Drum shade
Drum shades have become particularly popular over the years as they provide a direct light source rather than dispersing the light everywhere. These lamp shades are flattering for many bedrooms and living room spaces where you want to add light to your bedside tables.
As a ceiling lamp shade, they're ideal for those with smaller spaces because they're generally quite narrow. For either a table lamp, floor lamp or ceiling lights, they're a versatile shade shape.
2. Bell shade
Quite a classic option, it's still a favourite for a lot of homeowners who prefer a vintage style. As you might have guessed, the bell shade is shaped like a bell, hence the reason for its name. It provides ambient light and goes really well with lamp bases that are made out of brass or wood.
The shade is a lot bigger than most other styles but there are smaller versions of this shape that can be used on wall sconces.
It's a lovely accent piece to display in your room, whether it's for a lamp for some bedside reading or for setting a relaxed mood in your living space.
3. French drum shade
This shape is another popular one. The French drum is a slightly tapered shape and is often a preferred choice when looking for something a little different from the traditional straight drum lamp shades.
They're a great style for most households to adopt, and they let out a desirable amount of light. French drum lampshade coverage is similar to that of the classic drum shape, so you're likely to get a lot of ambient light with this one.
4. Empire shade
Another option for those who love vintage styles, the empire lamp shade is an excellent choice. Starting short at the top, the lamp shade expands down to the bottom. The result is a greater illumination of anything below it.
This option is good for table lamps, but it's mainly used for floor lamps. As lamp shapes go, this one tends to be a good pick for anyone wanting an alternative to putting on ceiling lights in their bedroom or living areas.
5. Coolie shade
The Coolie shade has to be up there with some of the best when it comes to retro lamp shades. The Coolie shape is also fairly similar to the empire shape.
The difference with this option, though, is the top of the shade is more narrow, and the bottom is extra wide. That means any light bulbs you use are going to let out plenty of light at the bottom.
6. Rectangular shade
Rectangular or square shades are perfect if you're looking for something different from the classic rounded shape. They are great when you're looking for plenty of light exposure.
They're a great option for modernising your home and have become popular for those who are looking for a minimalist approach in their design.
7. Novelty shade
Novelty shades are great for those that want something outside of the typical design box. They're more unique in style, and there are lots of variations that you can choose from.
These work really well as ceiling lights but can also go well on lamp base options for bedside tables too.
8. Bowl shade
The bowl shade provides ambient light. These are often a very popular choice for the kitchen as they project light in a downwards direction. The width of the outer rim will determine how much light spills out.
9. Tiffany-style glass shade
A lot of lamp base options will look great with Tiffany-style glass. They are a great accent lighting option and often make use of art glass that you'd typically see in stain-glassed windows. It's the right lamp shade for side tables and when trying to achieve soft ambient light.
10. Oval lamp shades
This shape is a lot more unique and less used than others on this list. However, they're great for those looking to try a different style.
Fitting these on a lamp base, whether it's a floor lamp or side table lamp, will give more flair to your space.
Types Of Lamp Shade Fittings
The type of lamp shade fittings is also something to consider. This is helpful when it comes to attaching the lamp shades to the lamp base.
1. Washer & spider fitter
The washer/spider fitter is often used more in the US but is still a good choice for UK-made lamp shades. They tend to provide extra support for the shade.
2. Candle bulb clip
Considered the most flexible fitting, this one is great for clip-on shades specifically. It makes it easy to remove from the lamp base and change up your options regularly.
3. Regular bulb clip
Another versatile option for clip-on shades is the regular bulb clips. Great for updating and modernising your current shades.
4. Hurricane/chimney fitter
Used for older-style lighting, this fitter is rarely found anymore in modern lamp shades.
5. Threaded UNO fitter
Designed for UNO sockets, this fitter consists of a thick ring in the centre of the shade. A common use for this fitter is on bridge arm floor lamps.
6. Reflector bowl fitter
A reflector bowl surrounds the socket of a reflector table lamp. It adds more visual appeal to the lamp and helps with glare.
7. Nardi or slip UNO fitter
A slip or Nardi UNO fitter is similar to the threaded UNO fitter. The difference is that the inner ring goes onto the socket in order to hold both the light bulb and shade.
8. Euro fitter
A euro fitter is used to join the lamp and light in two parts. It's the European standard for fittings.
The Different Lamp Shade Materials
There are a selection of different materials that are available if you're looking to vary your picks from room to room.
Linen
Linen is quite a relaxed material in its uses. As a shade material, it's great for use in rooms like the bathroom or bedroom. As a somewhat translucent material, it does leak a lot more light but some people may choose linen for that very reason.
Cotton
This material is often a popular choice when you're making your own lamp shades. It's also one of the most commonly-used materials for ready-made lamp shades and other furniture options, so you can likely find something that matches.
Paper
A budget option for anyone not looking to splurge, it's not likely to last forever and can often tear fairly easily.
Metal
Metal is a very opaque material to use for the most part, so it's great for those who are looking for minimal light leakage and want low-level lighting.
Glass
If you want the ultimate indulgence for your home, then glass is a great material for lamp shades. However, it might not be the best option when you have young children or pets that are particularly energetic.
Acrylic
As a type of plastic, acrylic shades are often another budget option for homeowners. They are still popular despite them not always looking particularly appealing.
Silk
Silk is a unique material to use for shades, although it's not uncommon. It is a delicate fabric that can rip easily, though.
View Our Range of Bespoke Lamp Shades Today
If you're looking to switch up your current lamp shades, why not check out our range of bespoke lamp shades today!
Don't hesitate to contact us on either 0131 554 8950 or enquiries@dorvallighting.co.uk to discuss your luxury tailored lamp shade ideas with one of our dedicated experts.