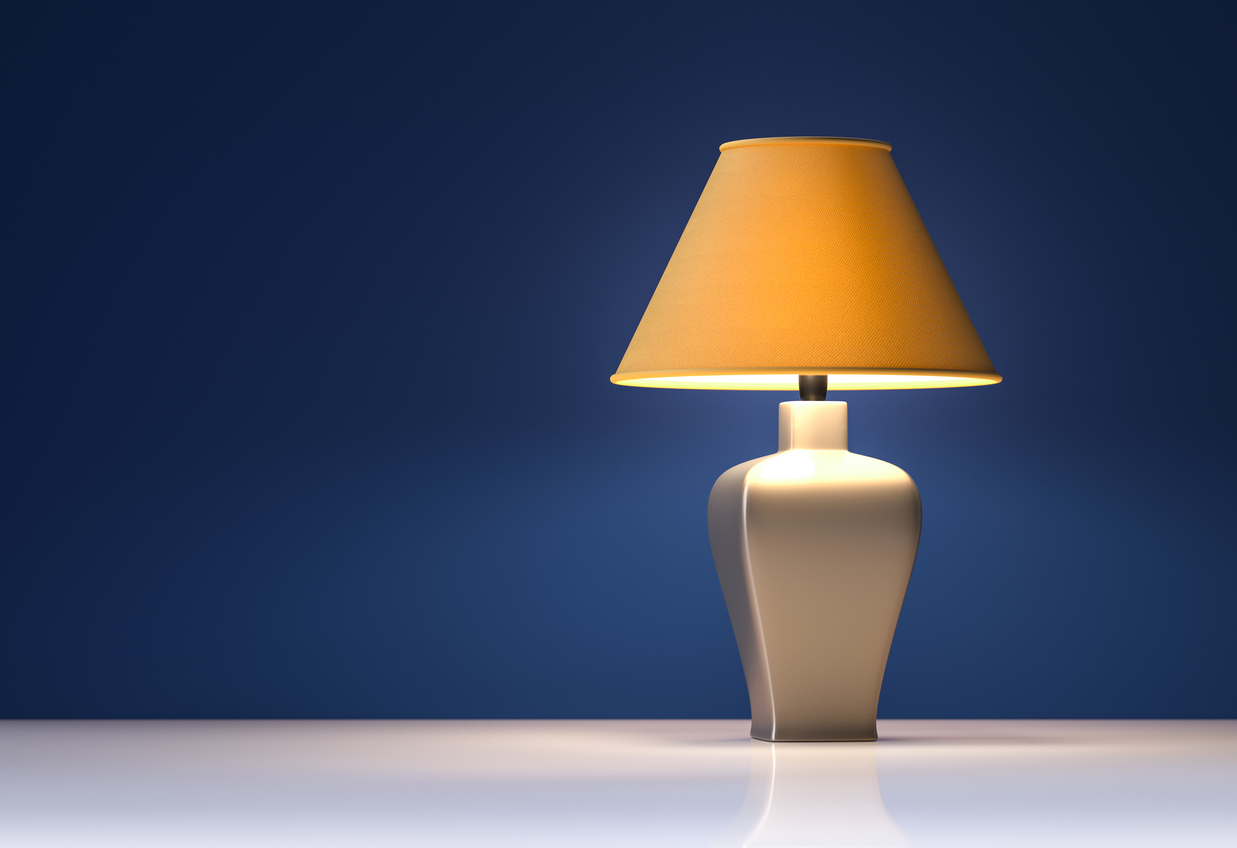 The light fixtures in your home or business play a crucial role in your property's interior design, but when it comes to cleaning and maintenance, lamps and lights are often overlooked. As they're suspended from the ceiling, it can be easy to assume that they aren't collecting dirt. Nevertheless, lampshades, especially felt lampshades, can begin to lose their shine if they don't receive the same TLC as the rest of the room.
To make sure your fabric light fixtures continue to enhance your home or office's interior design without losing their colour richness or soft texture, follow our top tips for maintaining and cleaning felt lampshades.
Felt Lampshade Maintenance Tips
Maintaining your lampshade will make it easier to clean and less likely to sustain damage, so consider these top tips where possible.
Keep Brightly Coloured Lampshades Out of Direct Sunlight
If it's possible to do so, try to keep any brightly coloured fabric lampshades out of direct sunlight. Although allowing natural bright light to flood into your home or business can bring your interior to life, the harshness of the sun's rays can cause textiles, such as felt, to fade. You may not notice this happening in the space of a couple of weeks or even months, but after a couple of years of being exposed to direct sunlight, the shade's fabric may lose some of its vibrancy.
It may not always be possible to keep your felt lampshades away from the glare of the sun, especially in rooms with large windows. However, to minimise sun fading, you may wish to fix lampshades with warmer tones in rooms that don't receive as much sunlight. This simple interior design trick will also help to brighten such spaces!
If you're finding lampshades for your home, you may consider drawing the curtains on particularly sunny days. This won't always be practical, but drawing the curtains when a room isn't in use may help to keep the colour of the felt as rich as possible.
Prevent Damp and Water Damage from Affecting Your Lampshade
Luckily, keeping ceiling lampshades stain and mark-free is fairly easy. As they're suspended up and out of the way, it's highly unlikely that you'll spill a drink on them or touch them with greasy hands. However, this doesn't mean that your lampshades aren't at risk of becoming damaged, especially if you struggle with damp or water damage in your house.
One simple way to protect felt lampshades from damp and water damage is to keep them away from high humidity areas, such as the bathroom. Otherwise, the felt will absorb moisture from the air and begin to shrink. This may also cause the felt dye to run or create a marble effect.
If you start to notice the telltale signs of damp forming on your ceiling, you should also act quickly to prevent stained water from dripping onto your lampshade. Wipe your ceiling regularly and if the issue is severe, consider unhooking your lampshade from the fixture until it has been resolved.
Remove Dust and Debris Regularly with a Lint Roller or Brush
Just as your home and business surfaces need dusting and polishing regularly, so do your felt lampshades. Dust and debris cling to fabric, and if you have a pet, you'll notice that dog and cat hairs do too! Pet hairs will be especially noticeable if you have felt lampshades for floor lamps, as these will be on full display in your home or workplace. Luckily, getting rid of these hairs and dust particles doesn't have to be difficult or time-consuming.
To brush your felt lampshade, take it off of its fixture and place it on a table. Then, use a lint roller or soft fabric brush to gently collect and remove the debris. Be careful not to brush too hard, as you may damage the fabric.
You might be surprised at how many hairs and particles cling to your lampshade, so get into the habit of lint rolling or brushing the fabric regularly. Once a month will help you keep on top of it!
How to Clean Felt Lampshades
When the time comes to clean your lampshade, remember to be as gentle as possible and only ever use cleaning solutions that have been approved by your supplier!
Use a Damp Cloth or Sponge to Remove Marks
If you spot marks and stains on the felt of your lampshade, you'll be pleased to know that cold water should be enough to remove them! You don't want to soak your lampshade as felt can shrink and take on a rough appearance, so damp a clean cloth or sponge and gently apply to the affected area.
Try to avoid rubbing or pressing the stain, as you may push the mark deeper into the fabric. Instead, dab softly until it starts to lift.
To make this easier, it's a good idea to remove any dust and debris first using our tips above. Otherwise, the dust will become wet and stick to the felt, making it more difficult to clean.
Use a Steamer for Any Stubborn Stains
Sometimes, a damp cloth just isn't enough to remove stubborn stains! In the off chance that your felt lampshade becomes marked in some way, and a damp cloth or sponge isn't doing the trick, consider using a steamer.
Try not to apply too much heat to your lampshade, as you want to keep the soft, almost fluffy-look of its felt exterior. However, applying steam is often an effective way to lift stains without having to rub or wipe the fabric!
Once you've finished steaming your lampshade, be sure to leave it to air dry.
Use a Damp Cloth to Wipe the Inner Drum
To keep the inside of a drum lampshade looking its best, get into the habit of using a damp cloth to wipe debris and dust away. This should also be enough to remove any marks that have built up inside!
Reflective surfaces may show greasy fingerprints vividly, so once you've finished cleaning the outer drum, pay attention to the inner. Shining a light on the inside of the lampshade will help you spot those frustrating finger marks!
Leave Your Lampshade to Air Dry
To keep the felt of your lampshade in its best possible condition, it's recommended that once you've applied a wet cloth to it, you air dry the wet area instead of applying heat.
Allowing the material to dry naturally will take longer, but it's far less likely to tarnish its colour or texture. It'll also prevent the felt from shrinking, which can occur if the material changes temperature too quickly. Opting for a more gradual process is much safer!
Make Sure to Invest in High-Quality Felt Lampshades!
Of course, the easiest way to make sure your lampshades stand the test of time is to purchase the highest quality fixture available. Lampshade drums fitted with the finest felt will stay looking their best for years to come, and will be less prone to common types of damage, such as colour streaking.
When searching for beautiful and durable felt lampshades, it's crucial to find a dedicated supplier. Look for suppliers that meet the following criterion:
Your chosen lampshade suppliers should have plenty of experience in producing quality lighting accessories. If they've managed to sustain a positive reputation after years of service, you'll know other customers are happy with the lampshades they've received!
For a truly bespoke product, consider buying from companies that handcraft their lampshades. Mass-produced and cheap lampshades may not be quality checked as vigorously as handmade models, whereas custom produced lamps will be made with love and care.
Great suppliers should have a wealth of positive reviews and testimonials from happy customers, so it's worth reading through these before making a purchase. Reading reviews is the easiest way to make sure that your chosen lamp manufacturers offer standout service!
Before buying from a lampshade company, you should also double-check their pricing. Your budgetary requirements will play a major role in the suppliers you purchase from!
From Grey Felt Lampshades to Single Ceiling Lights, Check Out Our Range of Lampshades Online!
Looking for reputable lampshade suppliers with a wide range of stunning fixtures and accessories? Dorval Lighting is here to help. With over 40 years of experience in the field, a long list of glowing reviews and competitive prices, we're the go-to lampshade suppliers for domestic and commercial clients throughout the UK.
For more information about our bespoke lampshade range (which includes wholesale lampshades for trade customers), don't hesitate to contact us today. We look forward to working with you!