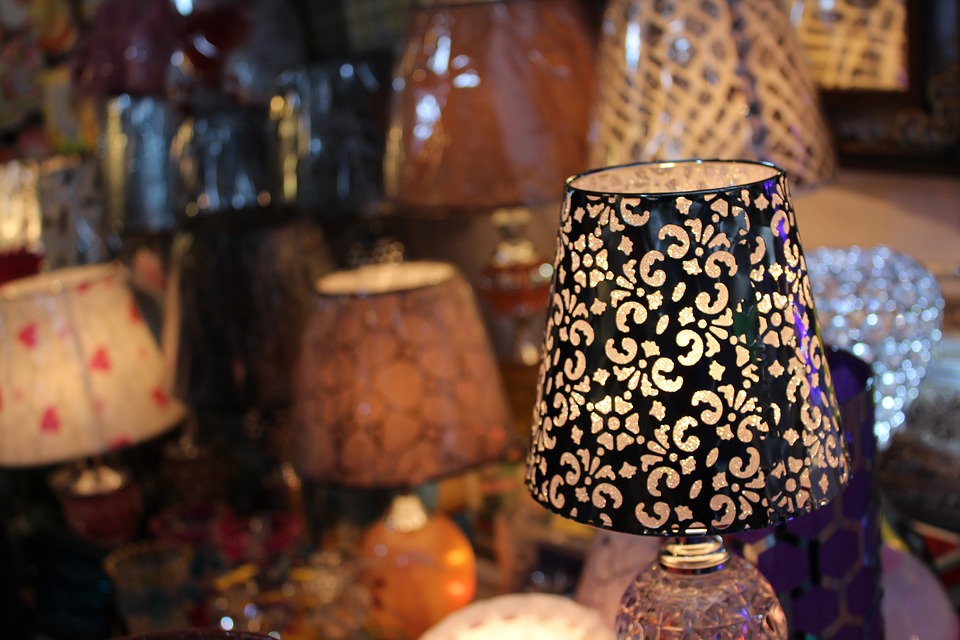 When creating an interior design for the home, many people simply forget about lampshades. You could be forgiven for not thinking that they make too much difference to the style of a property. However, if chosen in a considered way, they can help to accentuate your home and impact the way that light is diffused around a room. Choosing one lampshade over another can subtly alter the entire feel of the space you inhabit. If you've been struggling to choose lampshades for your home, we've created a guide which will give you the tools to make the best choice for you.
Choosing Lampshades For Your Home
When it comes to choosing a lampshade for your home, there are myriad options available. From choosing the material, size, shape, style and amount of light control, there is certainly no lack of choice. But what choice is right for you? That all depends on the space you have and your personal preference. Here we go through some of the things you might want to consider when choosing a lampshade for your home. Read on for further information.
Lampshade Material
Lampshades can be made in a dizzying array of materials. From cotton and corduroy to silk and plastic, you can choose whatever fits your style or budget.
Cotton Lampshade
Cotton lampshades are a popular choice for many homeowners. This lampshade fabric is known for its durability and long life. Cotton is simple and easy to clean, is versatile and can be produced to fit a range of styles, from decorative to pleated. As they're easy to clean, cotton lampshades are an excellent choice for a room in the home that tends to get messy – the dining room or kids play area, for example.
Corduroy
Like cotton, corduroy is another durable and popular material for lampshades. Corduroy lampshades are low-maintenance, strong and can stand the test of time. However, they also create a more opaque shade for lamps, so are best kept for areas where you won't mind a dimmer light. If you watch a lot of TV in the living room, a corduroy lampshade will provide the dimming quality you're looking for when watching a film with the family.
Linen
Although linen is a lighter and more porous fabric than cotton, it's also at least twice as strong as cotton. This makes it an excellent choice if you're looking for a durable fabric which will also let a lot of light through. Made from flax fibres, linen is an excellent choice of lampshade if you are looking for something simple, elegant and understated.
Silk
For the ultimate sense of luxury, you simply cannot go wrong with silk. Silk is one of the more expensive fabrics available, but more than makes up for the cost when it comes to style and pizzazz. Silk is thin, delicate, smooth and opulent. If the rest of the decor in your home exudes romance and style, then going for an elegant silk lampshade might be the right choice for you.
Paper
Paper lampshades are some of the most inexpensive on the market, while still being stylish and versatile. Depending on the thickness of the paper, these lampshades can provide either soft or heavy shading of light and there is a vast range of styles available.
Plastic
If you want a lampshade that mimics the aesthetic of glass without the risk of breaking, choose a plastic lampshade. Available in a vast range of styles and colours, plastic lampshades look great but are inexpensive and durable.
Make A Choice Based on The Size and Style of Your Lamps
You should always choose your lampshades based on the size and style of the lamps you have in your home. It goes without saying that a large lampshade might not go with a tiny lamp. Lamps, generally, come in only a few styles – round, rectangle or square and the classic candlestick style.
Choose a lampshade material and style which compliments that type of lamp you have in your home or pick a lamp and lampshade set which looks great already. You should also choose your lampshade based on the type of aesthetic you are going for. If you have a traditional brass candlestick lamp, you might be tempted to opt for a neutral cotton lampshade to keep that traditional aesthetic. However, if you want to be more modern, you could pair the traditional lamp with a more 'out there' lampshade, like coloured plastic.
Light Control
Another essential factor when choosing the lampshade for your space is to decide how much light control or light diffusion you want from your lamps. Depending on whether you want the light to be spread around a room or in a very limited way will influence your decision of lampshade. The material you choose, as well as the colour of the lampshade, will have an impact on the way that light is diffused around a room. If you want the light to spread around a whole room, you should choose a white lampshade. If you want something to give more ambience, then another colour could be more suitable.
When choosing a material, you'll need to be aware of the porousness of the material in question. Some materials will be translucent, which means that light can escape through it and spread around the room. Other lampshade materials are completely opaque, which will only allow light to disperse from the top or bottom of the lampshade. Depending on the amount of light you want in the room, you'll have to choose the colour, style and material of your lampshade.
Match You Lampshade Style With Your Interior Design
One of the main choices you will have to contend with when choosing a lampshade is how it will match up with the rest of the room it's being placed in. If you want to keep a traditional or rustic design, keep your choices traditional – neutral colours like white and classic lamps like brass candlestick lamps. However, if your design is more contemporary, then it's worth picking a lamp that matches it. Take a look around the room you are placing a lamp in and decide whether you want it to match up with the white walls or a more exciting part of the overall design. What do you want to accentuate about the design of your room? Knowing this will help you choose the best lamp and lampshade for the room.
If You Are Looking For a Handmade Lampshade in Edinburgh, Contact Dorval Lighting Ltd
Dorval Lighting Ltd has been providing clients in Edinburgh and beyond with excellent, high-quality lampshades for more than 40 years. As such, we're experts in the area and can manufacture and supply lampshades of all shapes and sizes for our customers. From wood lamps, cotton lampshades and cheap lampshades, our experience means that we can manufacture and supply them all.
Working with both homeowners and business owners, we have created countless lampshades for a range of clients. If you have been trying to find the best lampshade for your home in Edinburgh, look no further. We can create a bespoke lampshade to match your personality and style. Speak to a member of our friendly team and they would be more than happy to discuss the options we have available and how we can improve your home or commercial property.
To find out more about our services, please do feel free to contact us today. You can find us at 36/6c Newhaven Road, Bonnington Industrial Estate, Edinburgh, EH6 5PY. Alternatively, call us on 0131 554 8950 or email us at enquiries@dorvallighting.co.uk.