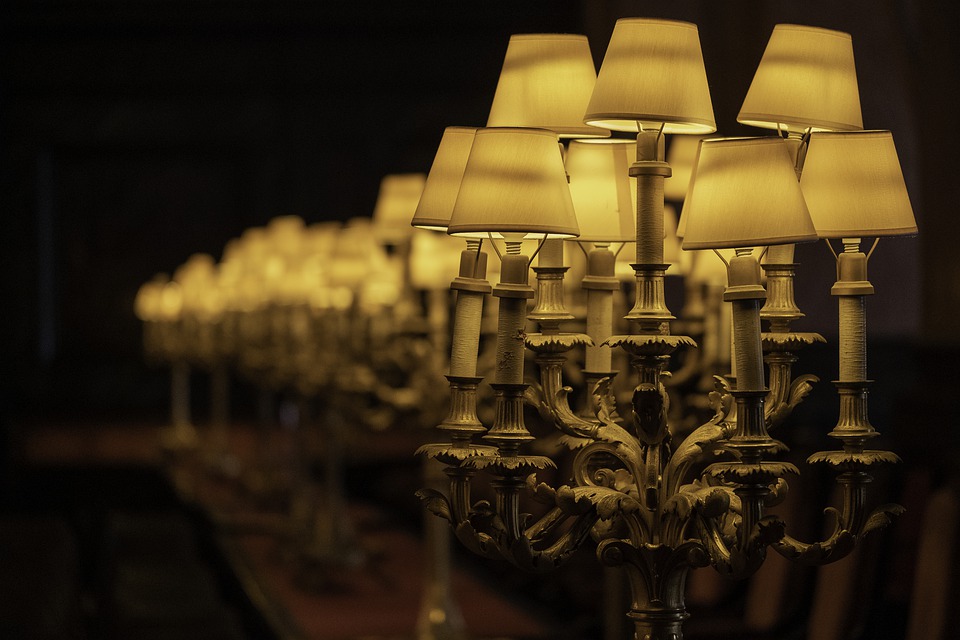 When it comes to making a restaurant the best that it can be, of course, the food must come first. You can't have a great eatery without high-quality food that makes people want to come and eat night after night. However, the interior design of your restaurant cannot be underestimated either. Without a space that people actively want to be in you can only ever go so far. Just ask yourself, how many restaurants have you been to that did not feel inviting that you wanted to return to? We bet that it isn't many! Picking a design style, choosing a colour scheme and decorations can go a long way to making a lasting impression on your customers. As well as all of this, investing in custom lampshades can also make a huge difference to the atmosphere of your restaurant.
As the interior design of your restaurant is vital to your branding and marketing strategy, it's essential to get it right and impress your guests. To give you a helping hand with your interior design, we've created a brief guide to the benefits of investing in custom lampshades for your restaurant.
The Benefits of Custom Lampshades For Your Eatery
Choosing lampshades for your restaurant may not seem like the most important interior design choice to make. However, they can make a huge difference. Choosing custom lampshades for your restaurant can have a range of benefits. Read on to find out more.
Bespoke Lampshades Can Help You Achieve The Desired Light Diffusion For Your Property
Depending on the type of restaurant you are operating, you will want to create a certain ambience. The atmosphere of a restaurant can be dictated by art, decorations but it's crucially dictated by the amount of light in a room. Do you want your restaurant to have a moody and romantic atmosphere for fine dining? If so, you will likely want a dim setting to create the appropriate mood. Alternatively, is your new bistro a place of contemporary minimalism with lots of white walls and simple furniture? If so, this might call for a brighter setting.
Choosing custom lampshades for your restaurant will allow you to dictate the amount of light diffusion you want. With some lampshades, you'll be able to get an even spread of bright light around a room, with others you can reduce the light coming from lamps to just the top and bottom. Whatever style you want, there will be a custom lampshade which is up for the job at hand.
Custom Lampshades Allow You To Have a Comprehensive, Custom Design Throughout The Restaurant
As mentioned before, the interior design of your restaurant should be seen as an extension of your brand and marketing strategies. With that in mind, you must have complete control over the aesthetic that you want to achieve. By choosing custom lampshades, you can work with lampshade manufacturers to provide you with a consistent design throughout your restaurant.
By choosing bespoke lampshades, you have authority about the material, style, shape, size and colour you would like. This means that you can accurately match your lampshades with the rest of your design to create a coherent and consistent brand.
With Custom Lampshades, You Can Direct Light Where You Want It
Much like being able to have control over light diffusion, you'll also be able to direct light where you want it with custom lampshades. You might want little spotlights for each table or beams of light directing chaotically around the room. Choosing custom lampshades will give you the ability to choose where you want the light to be directed.
Use Materials Which Match The Cuisine
If you serve a specific style of cuisine at your restaurant, you can choose custom lampshade materials which match the origins of the cuisine. For example, if you serve food which has its roots in the far east, you might be tempted to choose silk as your primary lampshade material. If you serve food from North Africa, linen might be the most suited to match the origins of the food. Egyptian food could be matched by Egyptian cotton lampshades. Most nations will have fabrics that feel native or connected to their culture and food. By matching these together, you can create a more authentic experience for your diners.
Custom Lamps and Lampshades Can Be Moved To Create a New Style Easily
When choosing lamps with custom lampshades at your restaurant, changing the style and atmosphere of the space is easy. Simply move the lamps around to get a completely different style and atmosphere. Alternatively, swap out your current lampshades for new ones with different light diffusion capabilities to get a new sense of identity. Lamps provide flexibility which simply isn't the same with traditional ceiling fittings.
A Brief Note on The Importance of Light For Ambience and Atmosphere
It's all well and good extolling the virtues of custom lampshades for your restaurant, but what's the end goal of the lighting and why is it important? As mentioned earlier, lighting can have a huge impact on the atmosphere of a restaurant. Low lighting invites diners to stay for a long, romantic meal. It doesn't give off the impression of a quick spot of lunch or a coffee. If you own a fast-food sandwich shop, however, you might prefer this style of lighting as it better reflects the identity of your restaurant.
According to research from the University of South Florida, published by Food & Wine, diners who eat in restaurants with dim mood lighting are more likely to eat more and with less concern for calories. Those who ate in brighter spaces were more likely to eat healthier food and less of it. With that in mind, lighting can directly impact your profits and how much people spend with you!
The atmosphere you create at your restaurant will leave an impression on your patrons and help them decide whether they want to come again or not and for which occasions. With mood underlighting – which is often seen as more flattering – you might see a greater quantity of people arriving for romantic dinners. These occasions will often see patrons spending more money and time with you. It's important never to underestimate the value that good quality lighting can have on the atmosphere of a restaurant and, therefore, its success!
Dorval Lighting Ltd: Handmade Lampshade Manufacturers and Suppliers Based in Edinburgh
With more than 40 years' experience, Dorval Lighting Ltd is the experts when it comes to bespoke lampshade manufacturing and supply. Whether you are looking for a linen lampshade, corduroy lampshade or another type of custom lampshade, we can help. All of our custom lampshade options are made using only the finest materials and can fit a range of light fittings. From semi-flush light fittings to lamps, we can supply you with a lampshade that fits the bill.
Based in Leith, Edinburgh, Dorval Lighting Ltd combines high-quality bespoke lampshade manufacturing with excellent customer service. In our four decades of trading, we've supplied our excellent products to countless clients in the area and beyond. From supplying homeowners to shops and restaurants, we can provide you with a broad range of lampshades for your property. If you want a fast and reliable service for your custom lampshade supply in Edinburgh, look no further.
To find out more about our services, please do feel free to contact us today. You can find us at 36/6c Newhaven Road, Bonnington Industrial Estate, Edinburgh, EH6 5PY. Alternatively, call us on 0131 554 8950 or email us at enquiries@dorvallighting.co.uk.