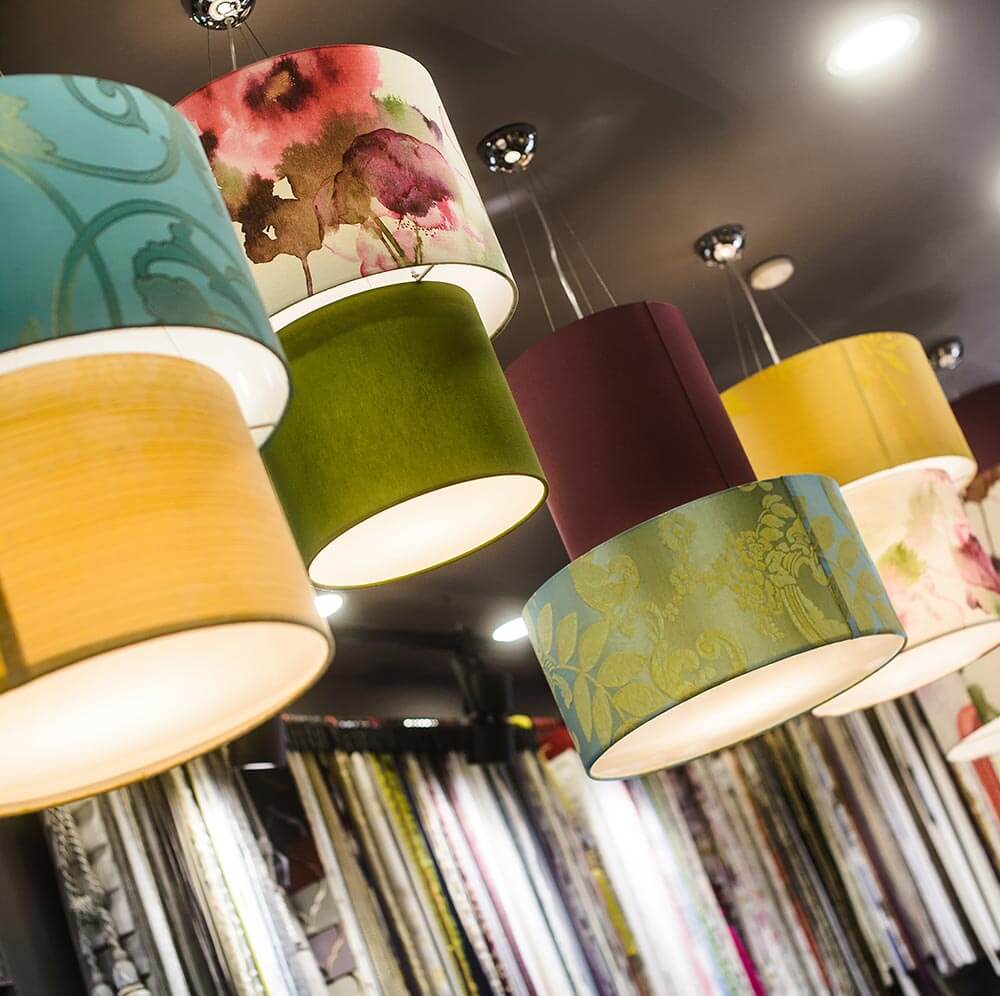 Choosing the right colour for your lampshades is crucial for enhancing your interior design and creating a cohesive look. Lampshades don't have to match but it can be challenging to find lampshades that complement your existing decor.
Here are some tips from Dorval Lighting for selecting the right lampshade colour.
Match prominent colours
Perhaps the most effective way to achieve a cohesive look is to consider matching to the prominent colours in your room. These colours may come from a variety of sources, including:
Woodgrain: Match wood with warm lampshade tones and vice versa for a harmonious look. Purple is a versatile colour that can work well with different wood types
Metallic decorations: Match your lampshade colour to the warm or cool metallic tones in your room for a sleek look. Warm metals include copper, bronze, brass, and gold, while silver and crystal materials are cooler
Cabinets: Complement unique cabinets with a subtle, neutral lampshade or add some life to white or clear cabinets with a coloured lampshade
Carpeting or walls: Balance a bold carpet, rug, or wall colour with a neutral or light-coloured lampshade. Use bolder lampshade colours to accent neutral carpets, walls, or furniture
Don't be afraid to break matching guidelines and add unique touches to your home decor for a personalised and eye-catching look!
Pick the perfect lampshade colour according to room function
A room's function can influence the right lampshade colour. Rooms in your home generally fall into two activity categories.
Rooms for work and concentration (kitchen, home office, home gym)
Rooms for relaxation and gathering (living room, bedroom, dining room, basement)
Work and concentration rooms need ample lighting and benefit from cool tones, whites, or semi-transparent lampshades, whereas relaxation and gathering rooms need a warm and dim atmosphere, and black or warm-toned lampshades with thicker fabric work well here.
However, personal preferences and specific room usage can also play a role in lampshade colour choice, so it's important to balance your likes and design-focused recommendations to create a space you truly enjoy.
How do you choose the right lampshade according to design aesthetic?
Choosing the right lampshade according to your own personal design aesthetics can be tricky. Before you choose a lampshade colour, really look at the room you plan to use it in and note down the different colours and shapes you see repeated throughout the space. You can choose to emulate these colours and shapes with a subtle lampshade, or you can follow through with a less noticeable colour in the design scheme. Either approach can help integrate your lamp into your overall design, but use these easy to follow steps to guide you if you're unsure:
Modern: Incorporate black lampshades with white, gold, or grey accents for a sleek look. Customise shade shape and lining colour for added sophistication
Minimalist: Keep it minimalist with a white lampshade with a simple shape to match a minimalist design
Farmhouse: Add warmth to a rustic or farmhouse design with off-white or beige lampshades that match cream, bronze, or brass accents in the room
Retro and mid-century modern: Channel the past with patterned or bright-coloured lampshades that tie in accent colours in the room. Give special consideration to the lampshade's shape for added retro feel
Bohemian: Stay earthy with neutral-coloured or brown lampshades that complement vintage furniture, globally-inspired textiles, and leather and wicker pieces
Based on the lamp style, what colour should my lampshades be?
You should consider the base colour and visual weight of your floor or table lamp when selecting a shade colour. Floor lamps typically have a larger, neutral-coloured base in black, gold, silver, or wood, while table lamps vary in size and may have a bolder base colour.
Floor lamp vs. table lamp
Floor lamps tend to have neutral-coloured bases and thin widths, giving you more freedom to choose a lampshade colour or pattern, whereas table lamps come in various base styles, including neutral and ornate designs, with circular, rectangular, or square bases. If the base is simple, you can add a splash of colour or pattern to the lampshade. If the base is bold, a neutral shade can complement it well.
Lamp base colour
Pairing your lamp base and shade colours is crucial for achieving your desired design aesthetic. Here are some options to consider:
The lamp base colour is crucial in choosing the right lampshade colour
Coordinating base and shade colours can achieve an overall colour scheme for your design aesthetic
Monochromatic pairing is an excellent strategy for a simple colour palette in a modern or minimalist aesthetic
Bold contrast is possible by pairing a dark base with a light shade or a light base with a dark shade
Subtle contrast can be achieved by pairing a cool-toned wood base with a cool-toned shade, suitable for farmhouse or mid-century modern aesthetics
After deciding on a colour scheme, consider the shade design and fabric to complete the perfect style
How does fabric impact the colour of your lampshades?
Fabric type can affect colour options, with linen, cotton, and silk providing more variety. Burlap, although a popular choice, may have fewer colour options. Fabric thickness and opaqueness also play a role.
Opaque vs. translucent shades
Translucent shades made of thin or white fabric diffuse more light throughout a room. The colour of the lightbulb will also affect the shade's colour, so it's essential to consider both factors. Opaque shades made of thicker fabric direct more light out of the top and bottom of the shade, providing a more dramatic effect. However, they tend to offer less light in the room.
The type of lampshade fabric you choose can affect the amount and quality of light that your lamp provides, as well as how the shade colour appears, so make sure you take the time to choose the right fabric for the needs of the room where the lamp will be used.
Fabric thickness
The thickness of your lampshade fabric affects how much light passes through it, impacting the brightness of your room. Fabrics range from thick (e.g., burlap) to thin (e.g., cotton or silk), with different levels of opacity. Before buying, make sure the fabric aligns with your room goals to achieve the desired effect.
Find your perfect lampshade colour with Dorval
At Dorval Lighting, we offer a vast selection of handmade lampshades in different colours, styles, and fabrics to match any decor. With over 40 years of experience, we're experts in finding and crafting the perfect lampshade for you. If you need help deciding which of our lampshades would work best in your home then take advantage of our free consultations.
Alternatively, browse our range of bespoke lampshades and speak to our family-run team if you have any questions.