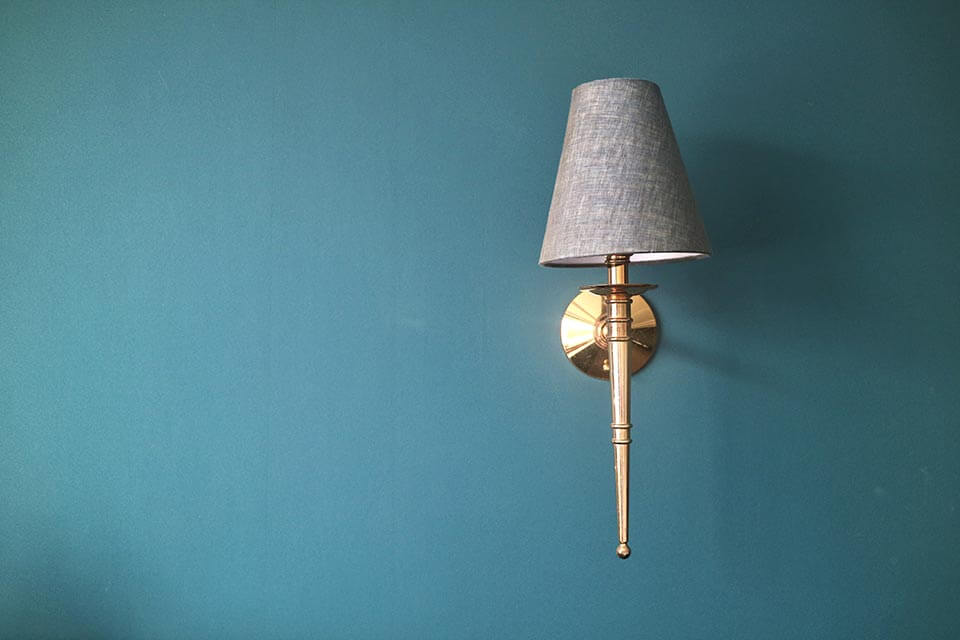 If you've got an eye for interior design, then you'll likely know what wall sconces are already. When decorating your home, it's important to add a bit of flair and personality to your property. After all, you're the one who will be living in it – not your guests!
With wall sconces, picking the right ones is important to enhancing the space around you. One style of sconce may only be suitable for certain rooms, whereas others are suited for a variety of areas within your home.
Despite them being a fairly old-school style of lighting nowadays, they're still well-liked in many modern homes. In this article, you'll get an understanding of what wall sconces are, the types available and how to decorate these in your home.
What Are Wall Sconces?
A wall sconce is a type of wall lighting that is fixed in place. A wall light of this type is usually limited in what lighting it provides. It's usually only upwards and downwards; however that can be changed with the type of design you pick.
Types of Wall Sconces
So what type of wall sconces are there? When it comes to wall lighting, the sconce can provide a certain level of ambience. Here are some variations of sconces that you may want to consider for your home.
Directional sconces
A directional sconce is one that shines light in a single direction rather than in a variety of ways. With these sconces, you'll often see it either projecting the light downwards or upwards, not both.
Sometimes though, a wall sconce of this type may be flexible so that you can adjust it to shine up or down. Often this type of lighting tends to be utilised to help highlight ceiling features or to add low light ambience to the room.
Swing-arm sconces
Swing-arm sconces are an excellent choice for those rooms that are slightly larger than most spaces. Whilst wall sconces are great in rooms that are limited in space, these swing-arm options help make a big room feel more filled out.
With a swing-arm sconce, you can also direct the light further out rather than it being too close to the wall. They're a modern take on what is an old style of lighting.
Candle sconces
Candle sconces are great for those who really want to create a vintage look. Perhaps you simply want to save a little on your electricity bill – don't we all?
These types of sconces are perfect for adding an ambient light that sets a relaxed mood for anyone in the space. They're often quite gothic in their appearance, but they can bring a lot of comfort and peace to the room you're in. It's perfect for your living areas, especially in the living and dining rooms of the home.
Wallchiere sconces
Wallchiere sconces are a very modern take on this type of lighting style. They're usually made out of metals like brass or stainless steel. They are often subtle, rather than something that sticks out like overhead lights or floor lamps. Wallchiere sconces are a suitable choice if you're looking for a minimalist, stylish design from your wall light.
Lantern sconces
Lantern sconces are often a perfect type of lighting for external use. It's a good way of adding that welcoming feel to your front door, and they're excellent for utilising outdoor walls to provide lighting to gardens and driveways.
Often enough, you'll see these wall lighting sconces at the side of the door or doors depending on how big your entrance is. You could also position them around the back of your home.
5 Ways to Decorate a Wall Sconce
Whether these wall lights are used in the bedroom, living room or dining room, each one could vary in style and design. When decorating wall lighting, there are plenty of ways you can approach it depending on what your taste and preferences are.
Drum lampshade
Drum lampshades are popular due to the balance of lighting they provide. When it comes to wall lighting, you might not want something that's too bright. That way, you can have a slightly subdued option instead of using your ceiling lights.
There are some great options when it comes to drum lampshades, including variations of the classic drum, such as the French drum shade. It's worth exploring the variations of this popular decor and seeing which one best fits the space.
Disk shade
For wall lights, disk shades are a popular choice. The curved disk means you can really restrict the lighting that comes from these light bulbs.
They're also a bit more unique in their style and shape. They can be modernised through different materials, whether you opt for ceramic or metal.
Disk shades are perfect for those looking for more focus on wherever the light is shining towards. For example, a photo frame or piece of artwork is where this type of shade works very well.
Candle shade
If you're looking for the classic style of wall lights, then the candle shade is a great decoration for these lights. The light bulb is fairly covered up, so some light leaks from the top but mainly from the bottom.
They're a traditional style that most go for when choosing wall lighting. For those who love vintage and retro finishes, the candle shade is a go-to.
Glass shade
Glass shades are often a great choice for wall lights because they can expose all of the light or minimise the glare with frosted glass.
A wall light like this can help find that balance that you need when adding a variety of options to the space. They're also a great choice for both bathroom settings and for use outdoors too.
This type of shade can work quite well for a vanity mirror where you'll often need a lot of light exposure.
Square fabric shade
Square fabric shades used for this type of wall light are great for modernising the space. If you've got some pretty outdated wall sconces but don't want to remove them completely, then this is a great solution.
The square shades are great for directing the light, and the fabric that's often used with these shades allow for a bit of extra light to come through. This tends to be one of the more popular options for hard-wired wall lights.
Square shades are often used regularly for bedside table space too. It's worth exploring this type of shade with different fabrics and materials.
The Best Types of Lighting to Use in a Wall Sconce
When using wall lights, it's good to know what types are going to be most effective. A light bulb only does half the job when lighting up your room, so it's important to consider what light fittings will go with the atmosphere or purpose of the space.
Ambient lighting
To create ambient lighting, the best type of wall light would be the candle sconce or square fabric shades. These provide a nice level of lighting that isn't going to be too harsh.
Wall lights that create ambient lighting are useful when you're trying to create a relaxed atmosphere or winding down for the evening. It's also when you can mix wall lighting with your floor or bedside lamps.
Task lighting
Task lighting is often used when you require a certain level of illumination for a specific activity. These could be wall lights that help you prep food in the kitchen to overhead lighting you need in your dining room when sitting down for dinner.
Wall lights will often come with a dimmer switch, meaning you control the brightness in the room. For this type of lighting, drum shades or disk shades work well.
Accent lighting
Wall lights are often needed to focus on a particular area within the space. For example, picture lights are typically used to accentuate the picture either above or below the light source.
They're great for drawing the eye, which is often required when it comes to artwork in the room. This type of accent lighting works really well in all areas of the home, from the bedroom to the bathroom.
So, you can see there are light fixtures to suit every mood!
View Our Range Of High-Quality Handmade Wall Sconces
If you're looking for something different to table lamps or you find overhead lights tend to not work so well in certain rooms, wall lights are a great option. You can view our full range of wall lights here, all of which are high-quality and handmade.
We also offer a bespoke, custom lampshade service for when you're looking for something more unique. To discuss your ideas, get in touch today by calling 0131 554 8950 or by emailing us at enquiries@dorvallighting.co.uk.